Summertime with Shea Butter
Summer means fun in the sun, and that can lead to dry, damaged skin! Sunburns, dry skin, bug bites, and more – there's no shortage of skin problems that can happen once we start enjoying more time outside. But, we have the perfect solution! Shea butter is our (not so) secret ingredient for summertime skin relief.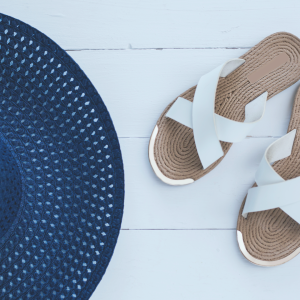 First, let's take a closer look at what shea butter is. Extracted from the nuts of the African Karite tree, shea butter is a fat. It's packed full of vitamins and fatty acids that make it perfect for nourishing and conditioning skin. 
It's also been found to have anti-inflammatory properties. When applied to your skin, shea triggers cytokines and other inflammatory cells to slow down their production. This can help soothe irritated skin caused by environmental factors like wind, sun, and dry weather.
Shea butter is rich, thick, and concentrated – to penetrate deep into the layers of your skin and keep that moisture locked in. Wondering how you can use this naturally-powered ingredient in your skincare routine? Here are a few ideas!
Sunburns – As careful as we may be, it's hard to make it a whole summer without at least one sunburn! The good news is that sunburns don't stand a chance against

Skin Relief

.

A proprietary blend of nutrient rich Aloe, Green tea, Seaweed, Chamomile, and Vitamin E, Skin Relief is enriched to soothe and care for all skin types. Super powered with shea butter, Skin Relief works hard to help skin reduce inflammation and irritation.
Long-Lasting Moisturizer –

Our

Shea Body Butter

is also a phenomenal everyday moisturizer. Shea butter is easily absorbed into your skin, so it won't make your skin look oily after you use it. Apply to hands, feet, legs, or anywhere you would like some extra moisture! Use after shaving for super smooth, healthy skin.
Luscious Lips – Pamper your lips! Polish away dead skin cells and moisturize at the same time with our

Lip Exfoliant

, then top it off with our

Lip Butter

before bed or a

Lip Butter Lipstick

for some color before you go out. Using shea butter creates the perfect balance of moisture on your skin, which means you will have fewer dead skin cells to get in the way of bright new cell regeneration.

Fresh, Glowing Skin –

As far as moisturizing our face, the

Deep Daily Moisturizer

is a great night-time cream as it replenishes your thirsty skin with the oasis of shea. It is filled with Vitamins A and E, which promote strong antioxidant activity. Antioxidants = anti-aging agents! They protect our skin from free radicals that can lead to premature aging and tired, dull-looking skin.
Shea Butter is a wonderful gift from the earth that provides an abundance of natural relief. You can see why we love to include it in many of our products! But don't just take our word for it. Here are some customer testimonies sharing the amazing relief they have found in their Jordan Essentials Shea Butter products.
"We have tried so many things for my daughter's eczema. This stuff worked like a charm and my hubby loves it for his feet too. It's amazing."
"My dad had skin cancer and had skin removed. I gave him some Skin Relief to use and he said it was the best, and you can hardly see his scars."
"The ingredients in Shea Body Butter have phenomenal power–power to heal, power to relieve pain, power to soften and soothe. With one try, I experienced relief from my dry, cracking, bleeding hands. For the last two years this has kept my hands healthy and smooth. I also use Shea Body Butter on aching muscles and knees. It's like gold to my skin!"