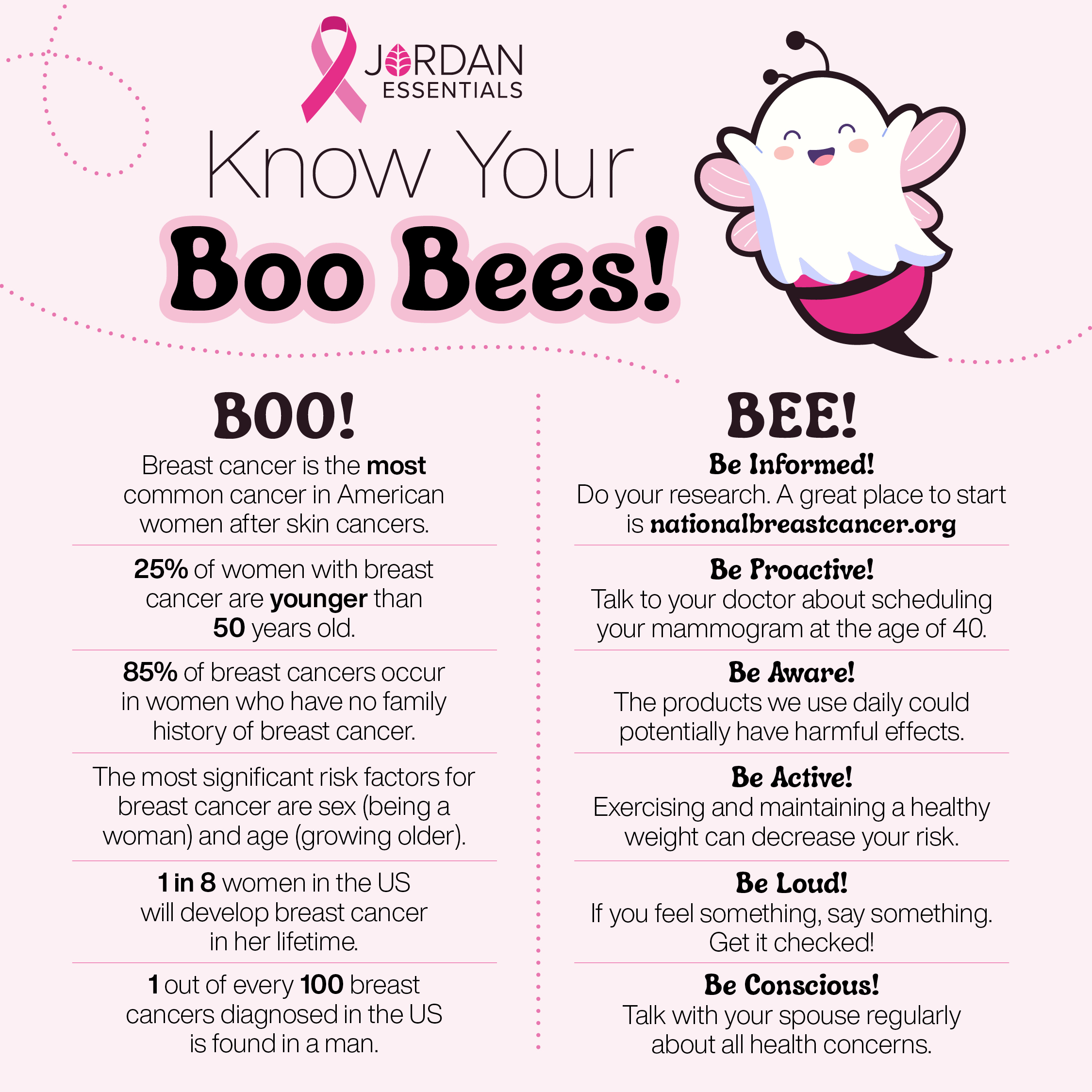 Boooo…the facts about breast cancer are not fun. The topic hits close to home for many of us. When we stop for a moment and look around, we see our loved ones—our best friends, sisters, mothers, grandmothers, aunts, daughters, and even our daughters' friends. The statistics are sobering, with one in eight women in the United States projected to develop breast cancer in her lifetime. Breast cancer is personal, and it's time to get personal about it.
During October, a month dedicated to breast cancer awareness, we encourage you to get to know your "Boo Bees." Knowing the Booo not-so-fun facts about Breast Cancer can help us Bee active in taking preventative steps
One of the first steps towards breast cancer prevention is being informed about what you put both into and onto your body. While we all understand the importance of maintaining a healthy diet for overall well-being, it's equally crucial to scrutinize the products we apply to our skin daily. One simple switch you can make this month is to eliminate harmful ingredients from your daily deodorant routine.
Numerous studies have revealed that certain ingredients like aluminum, parabens, and sulfates may pose risks in the deodorants and antiperspirants we use.
Aluminum, commonly found in many popular deodorants and antiperspirants, works by clogging pores to block sweat, along with the associated odor. However, this unnatural process interrupts the body's natural ability to sweat and detoxify.
Parabens, included as preservatives, are effective at preventing fungal and bacterial growth in products. Unfortunately, they've also been known to mimic estrogen in the body's cells.
Sulfates, salts used to remove oil and dirt while reducing moisture, can cause skin irritation and allergic reactions due to their drying properties.
The concerning aspect of these ingredients is that they can be absorbed through the skin, potentially increasing health risks, including kidney and liver issues, Alzheimer's disease, and breast cancer in both men and women.
Jordan Essentials' deodorants offer a solution by freeing you from these toxins and allowing your body to function as it should—without the unpleasant odor. Our deodorants utilize plant-based science to effectively control odor, minimize wetness, leave your skin smelling clean and fresh, and apply smoothly.
When transitioning to a natural deodorant, you may need to detoxify your underarms for the best results:
Start by cleansing your underarms with our Activated Charcoal Bar Soap, which helps draw out impurities.
Fight odor-causing bacteria by spritzing your pits with our powerful essential oil blend, "Spritz Your Pits." Allow it to dry thoroughly.
Apply just a few swipes of Jordan Essentials' Deodorant in your preferred scent. A little goes a long way.
Breast cancer awareness starts with knowing your "Boo Bees" and taking proactive steps to reduce your risk. By choosing natural, toxin-free products like Jordan Essentials' deodorants, you're not only protecting yourself but also supporting your body's natural functions. Empower yourself and your loved ones with knowledge and action this October and beyond.
During the month of October, Jordan Essentials is committed to doing our part. A portion of the proceeds from every purchase of our Black Raspberry Vanilla Deodorant will be used to gift pampering products to women in our Jordan Community who are battling all types of cancer now or who underwent treatment in 2023.
 Help us make in a difference this October.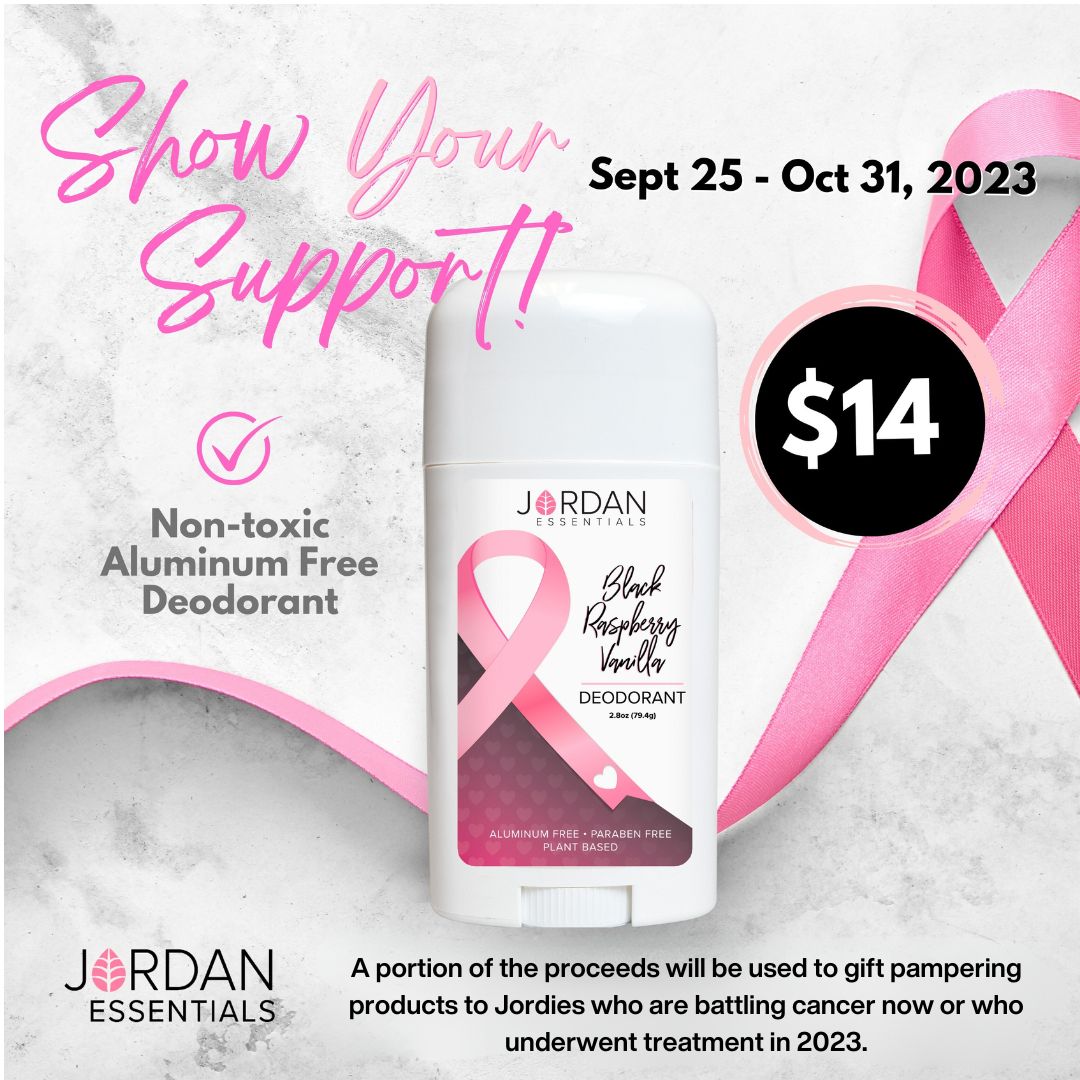 Ahh summer! Sunny skies, road trips, swimming, and … sneezing? If you have seasonal allergies, this might be your reality. With trees, grasses, and flowers blooming and spreading pollen everywhere – allergy symptoms can take a toll on your summer fun.
Here are 8 tips to help keep your allergy symptoms at bay:
Don't touch your face: We should all be in the habit of keeping our hands away from our faces anyway – but this applies for allergies too! This can help prevent pollen from coming in contact with your eyes and nasal passages, and making your symptoms worse.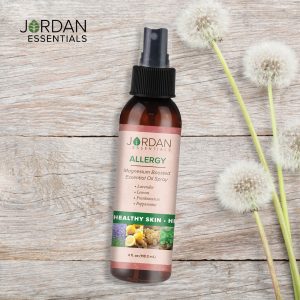 Incorporate Essential Oils: Our Allergy Blend Essential Oil Spray is a wonderful blend of Frankincense, Lavender, Lemon, and Peppermint Essential Oils. Combined with a soothing witch hazel base, this spray can lessen symptoms such as itchy, puffy eyes while also opening airways and helping you breathe with more ease.
No mixing, no measuring – perfectly blended and safe to spritz directly onto your body (ages 2+), in the air, and even on your bed linens for a more comfortable night's sleep. You can also use this spray on clothing, towels, rugs, inside your car – the possibilities are endless. Safe to be used in homes with pets, too!
Stay clean: Allergens can stick to hair, skin, and clothes. Be sure to leave shoes at the door, rinse your hair and body, and toss clothes into the laundry basket after spending time outside. Washing bed sheets frequently (and using that wonderful Allergy Spray!) will ensure they are allergen-free for bedtime.
Plan yard work strategically: Warm, sunny weather means time spent outside working in our gardens or mowing the lawn. If you suffer from allergies, you may have to limit your gardening when pollen counts are high. Avoid lawn mowing, weed pulling and other gardening chores that stir up allergens. Pollen tends to be highest from 5am-10am and at dusk – so try to plan your yard work in between those times.
Stay inside: High pollen counts can put a damper on outdoor parties and activities. On particularly warm and windy days, pollen is spreading and sticking to everything. If you do spend time outside, wear sunglasses and a wide brimmed hat to prevent allergens from getting into your eyes. Watch the weather and plan to spend time outside after rain showers. Rain helps to settle any allergens in the air. 
Vacuum before leaving the house: Vacuuming stirs up dust and allergens increasing the likelihood of them triggering symptoms. Plan to vacuum your home before stepping out to allow dust and allergens to settle. You can also spray Green & Clean in rooms you have vacuumed to help the dust settle quicker.
Keep indoor air clean: Using an air purifier will help remove contaminants from the air, and in turn, should decrease your exposure to pollen and dust. Jordan Essentials Green & Clean can also be added to air purifiers for added moisture in the air.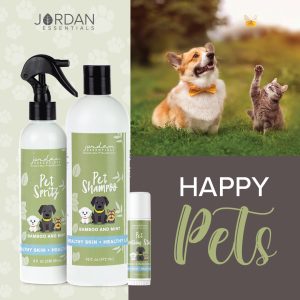 Keep pets clean: Summer is fun for everyone, pets included! But, during peak allergy season they can become a walking allergen themselves. Try to keep your pets off of furniture and out of the bedroom. Make sure they get washed more frequently to keep the pollen from hitching a ride inside with them. Our Pet Shampoo smells great and gets pets super clean! Spray with our Pet Spritzer for a shiny coat and resfreshing scent of bamboo and mint. 
There you have it, eight ways to make it through allergy season without itchy eyes and a scratchy throat. Of course, if symptoms become more severe, seek professional medical advice.  
Jordan Essentials does not claim to treat, diagnose or cure any medical condition. This is for informational and educational purposes alone.