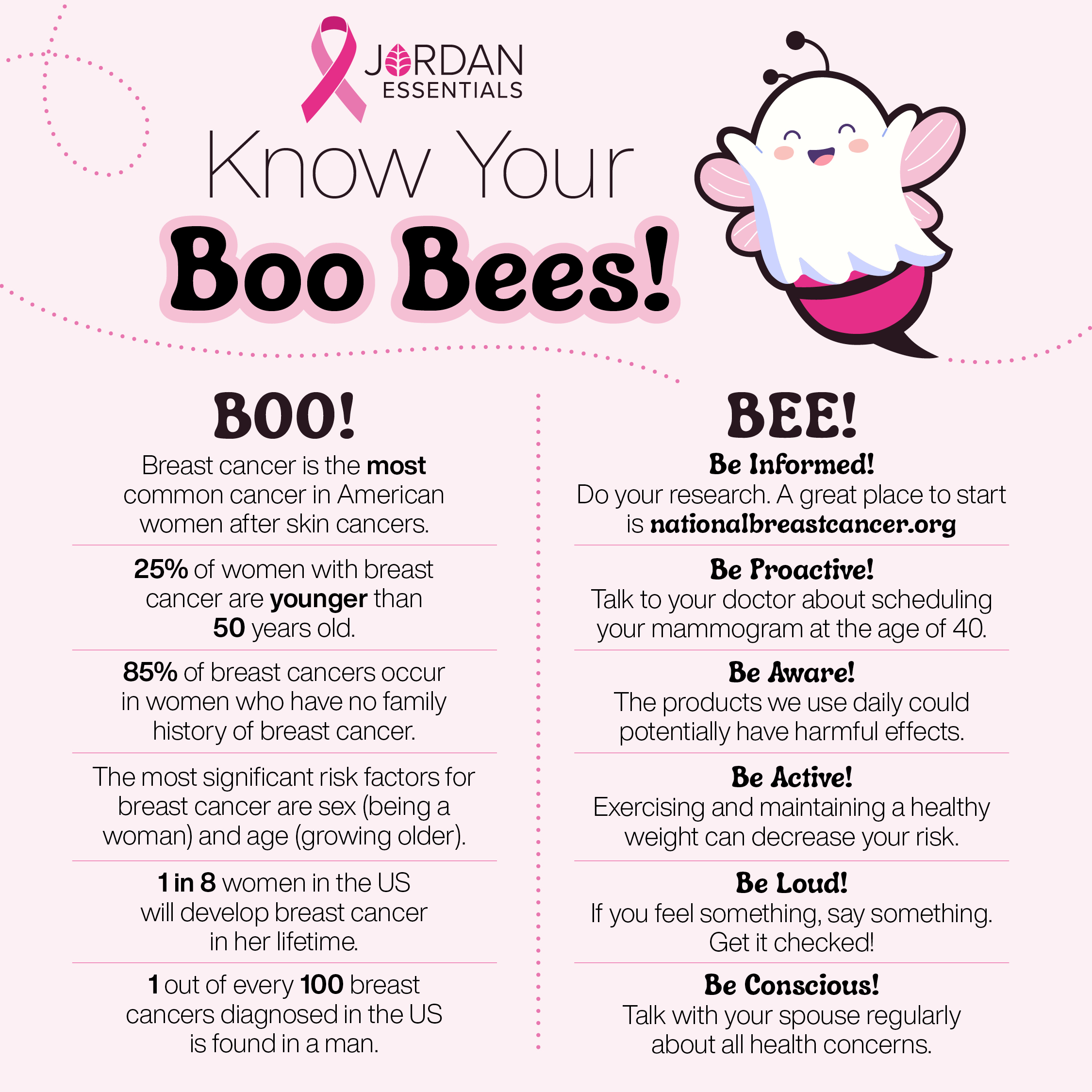 Boooo…the facts about breast cancer are not fun. The topic hits close to home for many of us. When we stop for a moment and look around, we see our loved ones—our best friends, sisters, mothers, grandmothers, aunts, daughters, and even our daughters' friends. The statistics are sobering, with one in eight women in the United States projected to develop breast cancer in her lifetime. Breast cancer is personal, and it's time to get personal about it.
During October, a month dedicated to breast cancer awareness, we encourage you to get to know your "Boo Bees." Knowing the Booo not-so-fun facts about Breast Cancer can help us Bee active in taking preventative steps
One of the first steps towards breast cancer prevention is being informed about what you put both into and onto your body. While we all understand the importance of maintaining a healthy diet for overall well-being, it's equally crucial to scrutinize the products we apply to our skin daily. One simple switch you can make this month is to eliminate harmful ingredients from your daily deodorant routine.
Numerous studies have revealed that certain ingredients like aluminum, parabens, and sulfates may pose risks in the deodorants and antiperspirants we use.
Aluminum, commonly found in many popular deodorants and antiperspirants, works by clogging pores to block sweat, along with the associated odor. However, this unnatural process interrupts the body's natural ability to sweat and detoxify.
Parabens, included as preservatives, are effective at preventing fungal and bacterial growth in products. Unfortunately, they've also been known to mimic estrogen in the body's cells.
Sulfates, salts used to remove oil and dirt while reducing moisture, can cause skin irritation and allergic reactions due to their drying properties.
The concerning aspect of these ingredients is that they can be absorbed through the skin, potentially increasing health risks, including kidney and liver issues, Alzheimer's disease, and breast cancer in both men and women.
Jordan Essentials' deodorants offer a solution by freeing you from these toxins and allowing your body to function as it should—without the unpleasant odor. Our deodorants utilize plant-based science to effectively control odor, minimize wetness, leave your skin smelling clean and fresh, and apply smoothly.
When transitioning to a natural deodorant, you may need to detoxify your underarms for the best results:
Start by cleansing your underarms with our Activated Charcoal Bar Soap, which helps draw out impurities.
Fight odor-causing bacteria by spritzing your pits with our powerful essential oil blend, "Spritz Your Pits." Allow it to dry thoroughly.
Apply just a few swipes of Jordan Essentials' Deodorant in your preferred scent. A little goes a long way.
Breast cancer awareness starts with knowing your "Boo Bees" and taking proactive steps to reduce your risk. By choosing natural, toxin-free products like Jordan Essentials' deodorants, you're not only protecting yourself but also supporting your body's natural functions. Empower yourself and your loved ones with knowledge and action this October and beyond.
During the month of October, Jordan Essentials is committed to doing our part. A portion of the proceeds from every purchase of our Black Raspberry Vanilla Deodorant will be used to gift pampering products to women in our Jordan Community who are battling all types of cancer now or who underwent treatment in 2023.
 Help us make in a difference this October.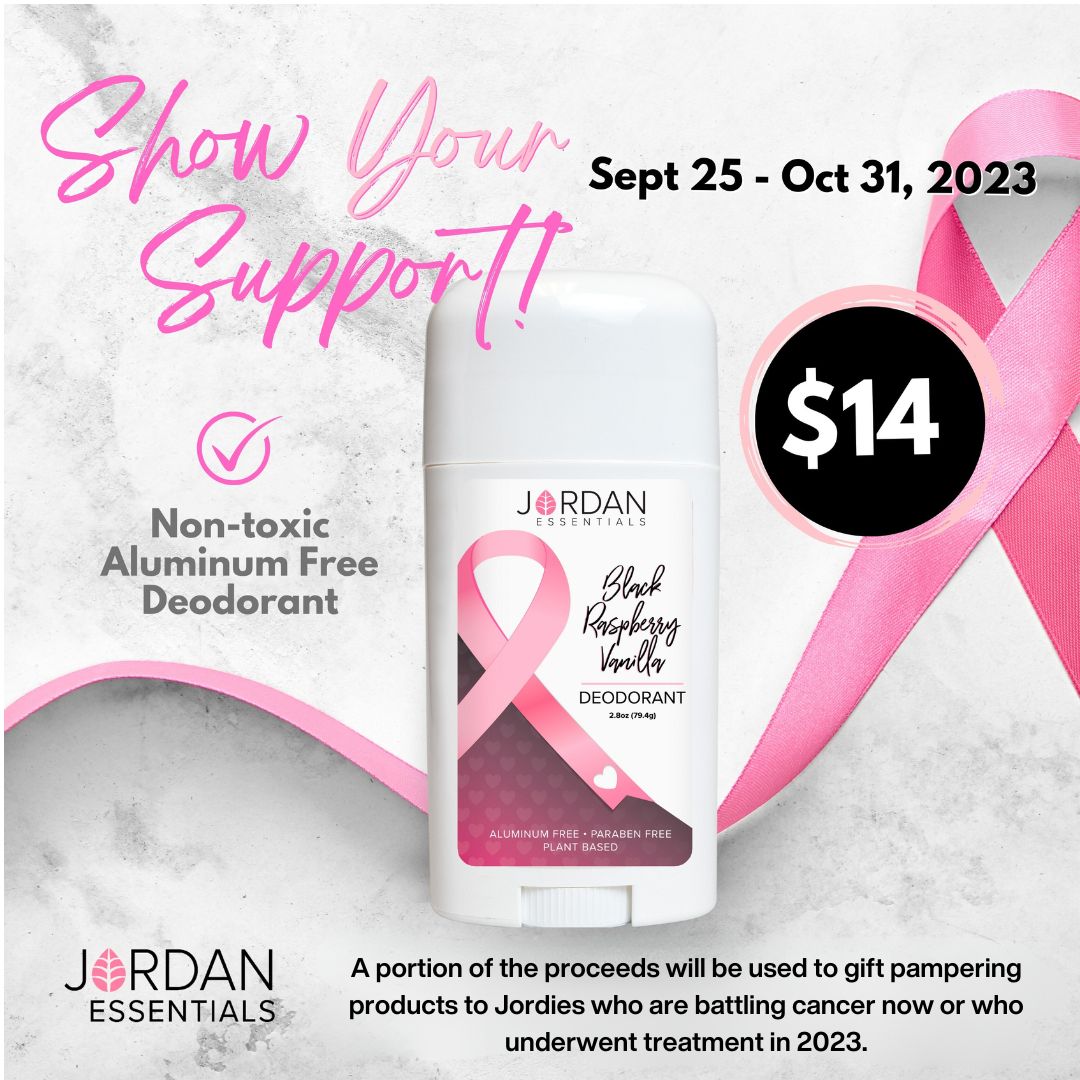 May is National Skin Cancer/Melanoma Awareness Month!
With more than five million people diagnosed each year, skin cancer is one of the most common types of cancer. It is also preventable and can be highly treatable when caught early.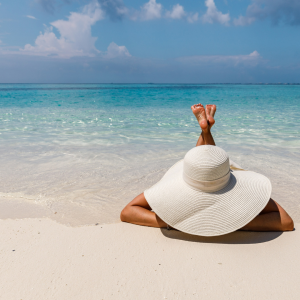 Here are a few facts about skin cancer that you may not know:
More than 90% of skin cancer is caused by sun exposure.

1 in 3 Caucasians will be diagnosed with skin cancer at some point in their lifetime.

Dark skin tones absorb twice as many UV rays as fair skin tones, but people with darker skin tones still need to use sunscreen – melanin can only provide a natural protection of up to SPF 13.

One bad sunburn during childhood can double the risk of skin cancer later in life.

Melanoma is the most common cancer in young adults, especially young women.
These statistics are scary, but there is plenty of hope! We can take steps to protect our skin and prevent skin cancer. Here are some tips:
Wear sunscreen every day.

The Skin Cancer Foundation recommends using a sunscreen with an SPF of 30 or higher. 

Mineral makeup naturally provides some sun protection as well. The minerals used act like little shields, and the UV rays hit the small particles and bounce off.

We have a full line of

Mineral Makeup

for nontoxic beauty solutions.

Dress for the occasion.

Cover up with clothing, a large hat that covers your face and neck, and wear UV-blocking sunglasses when out in the sun for long periods of time.

Using a rash guard with UV protection when swimming will also help to protect your arms, neck, and torso.

Set up a cool environment.

Try to stick to the shade, especially during the time when the sun is the fiercest (usually 10 a.m. to 4 p.m.).

Use an umbrella or tent to create shade in open areas and keep track of the time you're spending in the sun. Try not to overdo it!

Use the right kind of sunscreen. Mineral sunscreen gets to work as soon as it's applied. It creates a physical barrier so that UV rays are reflected, not absorbed into your skin. This makes it more effective for acne-prone skin, and less likely to cause irritation. Our Mineral Sun Stick is super easy to apply and small enough to carry with you anywhere. Chemical sunscreens take up to 30 minutes to begin working effectively. Many contain toxic ingredients that may help to protect the skin from UVA and UVB rays, but also add stress to your lymphatic, circulatory, and nervous systems, and have a negative impact on marine life. Be an informed consumer and know what you are putting on your skin.
Go sunless. Want to protect your skin but still have a nice tan? Try Jordan Essentials Sunless Tanning Lotion. JE Sunless Tanning Lotion uses the natural sugars in your skin to darken the pigments for a natural tan that doesn't turn orange, streak, or discolor. Available in Sunkissed or Bronzed!
Check yourself.

Do your best not to burn, and if you do, treat immediately with

Skin Relief

Lotion. With aloe, seaweed, chamomile, and green tea – it's the perfect way to naturally promote healing.

Check your skin regularly for abnormalities, and if you are concerned with any lumps, spots, moles, or discoloration, see your dermatologist immediately.  Skin issues are best treated when detected early.

Set a yearly appointment for a check-up exam with your dermatologist, especially if you are often out in the sun.
Follow these simple steps to keep your skin cancer risk factors low. Please share with friends and family so they too will be armed with this knowledge and keep their skin safe. Prevention is the easiest way to keep our skin healthy – get your sunscreen on!
For informational and entertainment purposes only. Not intended to diagnose, prevent, treat, or cure anything. Consult your healthcare provider with specific concerns.
Let's talk masks! We're not talking Halloween costume masks, but the super relaxing kind of masks you might enjoy at the spa. We can't get enough of our therapeutic and beneficial face masks!
We've decided to round up the many benefits of our key Jordan Essentials masks.
Here is everything you need to know about our Detoxifying Clay Mask and Purifying Charcoal Mask.
Our Detoxifying Clay Mask is great year-round due to its ability to remove pollutants from the skin and provide a deep clean. Made with Bentonite clay, this mask is suitable for all skin types and can even be used as a spot blemish treatment.
In addition to removing toxins and detoxifying the skin, Bentonite clay also treats oily skin and acne, and it removes any makeup clogged in the pores.
This clay mask also features safflower seed oil, apricot kernel oil, sweet almond oil, castor oil, sunflower oil, aloe, green tea, chamomile, and seaweed. The oils help moisturize the skin and nourish it with antioxidants. Aloe helps reduce the appearance of blemishes, as well as moisturize and heal the skin, while green tea is loaded with antioxidants that help with anti aging. Chamomile speeds up the healing process and seaweed hydrates the skin. The combination of moisturizing, hydrating, and healing make this a great mask for all seasons and all skin types.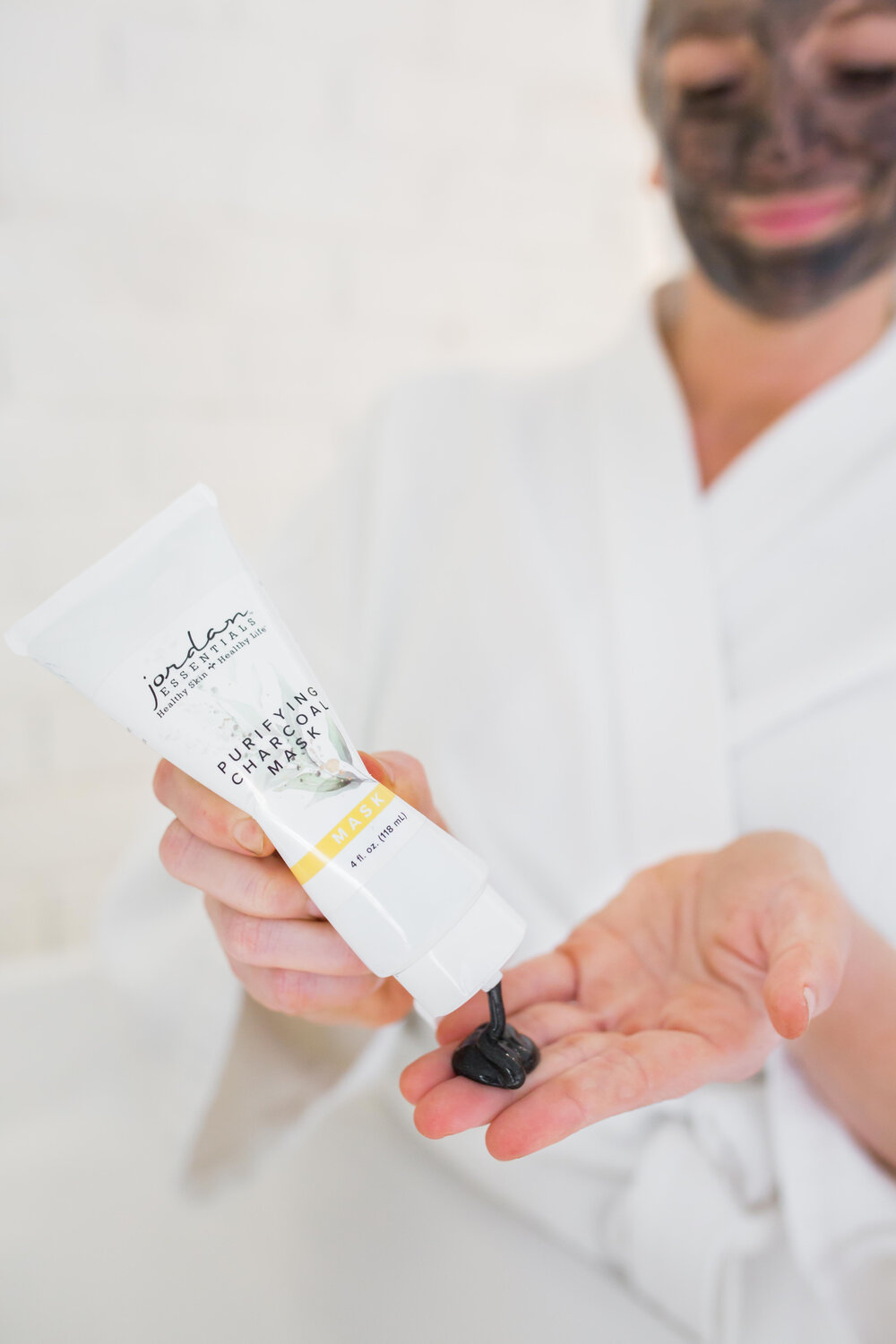 The Purifying Charcoal Mask is an essential for your beauty cabinet. If you're not using activated charcoal in your skincare routine yet, then you'll definitely want to learn about the many benefits of charcoal.
Charcoal removes impurities from the skin and leaves behind a healthier, clearer complexion. Using a charcoal face mask will provide you with brighter skin tone.
Due to its ability to remove bacteria and dead skin cells from the skin, charcoal is able to heal acne. The antibacterial properties of charcoal allow it to lift bacteria from the pores, purify the pores, and improve overall skin tone. Charcoal rids your skin of acne-causing elements like excess sebum, clogged pores, and dead skin buildup.
Got oily skin? Charcoal can even mattify oily skin by balancing the oil secretion on the skin. If you have oily, blemish-prone skin, a charcoal face mask is especially beneficial.
Jordan Essentials face masks are made from the highest quality and natural ingredients, so you know you are pampering your skin the healthy way.
Watch for info about our super fun Toner Mists and Sheet Masks too!
The lavender story begins in 1910 when René-Maurice Gattefossé plunged his hand into a vat of lavender oil after suffering a severe burn. He was amazed at how quickly, and with minimal scarring, the burn healed. His story spread and elevated lavender to its prominent position as the go-to essential oil for burns.
We don't know about you but minor cuts and burns happen all the time all summer long.  No need to watch your family  suffer with Lavender Essential Oil in your Mom bag of remedies.  Lavender is an "essential" (pun intended) oil for busy families during the summer months.
Cool it down! It is true that Lavender Essential Oil is fantastic for minor burns, including sunburn and windburn. To start the cooling and healing process quickly, mix one or two drops of Lavender Essential Oil with a quarter-size amount of your favorite unscented lotion like JE Skin Relief, and gently apply to the affected area.  The lavender will immediately begin cooling and soothing. Skin Relief will help nourish the skin back to health.
Want a quick spritz and premix?  Lavender Essential Oil Spray is safe to spray directly on the skin for that instant, soothing effect.  It is perfectly diluted for use around the home, car, or workplace.
Summer on-the-go stress freaking you out just thinking about it?  Lavender Essential Oil takes care of that too. It is calmness in a bottle! Enjoy its relaxing properties by placing a drop or two on a cotton ball, hold it gently in your hands, raise up to your nose and inhale! Ahhhh….the aroma fills your nose and calms your spirits!  You can take on anything summer can dish out!
Well…maybe not quite everything! If you get a little too energetic with playing in the park, exercising or yard work, tight and sore muscles can benefit from lavender essential oil also.  Partner lavender with Magnesium and you have the one-two punch. Jordan Essentials has made this easy with our premixed Lavender Magnesium Spray. This spray is diluted to be sprayed directly on the skin and is ideal for those hard to reach places like between the shoulders and lower back.
Moms can mix their own Lavender Magnesium lotion. Take a drop or two of Lavender Essential Oil and add it to five pumps of Naturally Unscented Magnesium Lotion, gently mix and apply to the sore muscle area. Fast relief is on the way!
Feel good knowing there are alternatives like Lavender Essential Oil that can be used by the whole family in a variety of ways.
Connect with your Jordan Essentials consultant today about adding Lavender Essential Oil to your next order. Be Mom summer ready!
Everyday, we give families all over the United States the opportunity to create the life they have always dreamed of and enjoy products they can feel good about using. But this month, we have the opportunity to give more. As most of you already know, for the entire month of October, anything a host earns in host credit, we are going to match in product to donate to Toys for Tots, a program initiated by the U.S. Marine Corps Reserves to provide toys and hope to underprivileged children across the U.S. For example, when you host in October and earn $75 in free host credit, all of us at Jordan Essentials will donate $75 in products from our children's line. Contact your local Consultant TODAY!!
#jordanessentials
#toysfortots